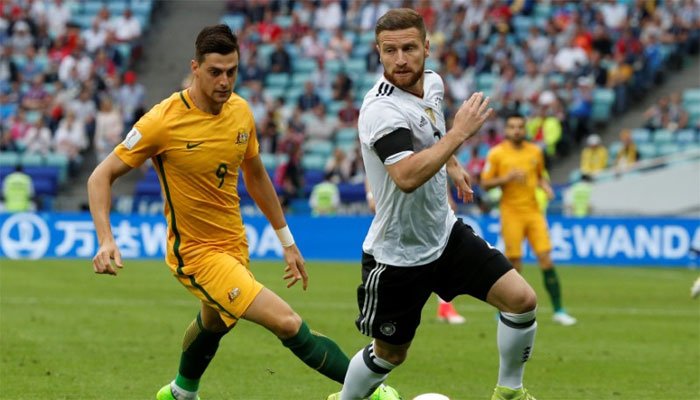 Australia was knocked out of the 2017 Confederations Cup at the group stage and one of their rivals Germany won the tournament with a second-string team.
The Socceroos have been craving success and recognition but it has not come. Since the heroics of the 2006 World Cup, the euphoria has died down, and the A-League is not an overly competitive league. Aside from Western Sydney Wanderers winning the 2014 Asian Champions League, Australian clubs are often non-competitive.
Here are five things the Australia needs to do if it wants to be competitive and recognised in world football/soccer.
Overhaul the FFA
Many soccer fans have been dissatisfied with the way the FFA (Football Federation Australia) has been run, in particular the lack of activity from Chairman Steven Lowy and CEO David Gallop.
Lowy is considered to be man who is
more focused on his business interests than on soccer
and he does not have the passion or knowledge for the sport while there is a public perception that Gallop is undermining the progress of soccer in Australia so rugby can remain one of the country's most predominant sports.
The FFA needs a new board that actually cares about soccer, they want to improve the sport, and know how to invest shrewdly. The federation needs proper governance and plans to make the sport progress throughout the nation.
Youth Development Must Improve
Not many teams follow the FFA National Curriculum, with
Nunawading
and
Bentleigh Greens
being a couple of the very few Victorian sides to focus seriously on youth development.
The then-technical director Han Berger created it in 2013 and based it on the style of play synonymous with his native Netherlands but it has been met with scepticism.
Worst of all, many teams that have not implemented the coaching curriculum are still setting their teams up in a 1-3-4-2 formation with a sweeper and hit long-balls to two fast strikers. The focus is too much on results and not enough on developing young players.
More clubs need to follow the curriculum or move away from implementing dated tactics. We do not need to copy the Dutch down to the letter but we should also take ideas from other football nations and cultures.
Australian teams are typified by their work ethic and fighting spirit but Australia's stars of the future must improve tactically and technically.
Avoid Hiring British Coaches or Managers
Melbourne City set themselves back by hiring Warren Joyce as coach because the majority of his career has been spent coaching the Manchester United reserves and has little experience coaching at a senior club.
British managers have struggled to secure jobs in Europe and there has to be good reason for it; they are most tactically inept in world football. They might look good in Australia but they cannot improve the standard of soccer in this country.
Until the 1980s, British managers were among the best in the world. Now their predictable 4-4-2 formation with emphasis on pace and physicality is not enough to sustain success at the highest level.
Many clubs and countries around the world are looking at Italy for coaches and Italian tacticians have shown that they know more than just defending tight leads. Spanish coaches have become popular, with Guillermo Amor and Josep Gombau implementing their possession-based philosophy. Other options are Dutch, Argentinian, and German coaches because they can blend tactics and technique.
Remove the Salary Cap
Although other Australian sports leagues have salary caps, it does not mean soccer should have it. It seems that some Australian sports fans cannot picture the A-League not having a salary cap because of their own narrow-mindedness. Very few countries in the world have it in their sporting codes.
There are people who have this belief that if there is no salary cap, all the clubs would go broke. Australia might not have the strongest economy in the world but removing the salary cap won't send clubs into bankruptcy. Club boards and committees need to be shrewder with their spending and organisation as well as accept their limitations.
Also keep in mind that there is more money in world football than in most other sports. If Australia becomes a strong soccer nation, players could leave the country for incredibly cheap transfer fees. By removing the salary cap, the richer teams could increase wages for star players and Australian clubs could demand higher transfer fees for players.
Introduce Promotion and Relegation
In Australia, sports fans are used to seeing one division for the elite sports teams. It may not happen in the future but the FFA should seriously consider creating a second division.
There could be two divisions with either 8 or 10 teams in each one and either two or three teams could occupy the promotion/relegation areas.
The current system is flawed because six our of 10 teams can play finals and if the bottom clubs do poorly, it is easy for them to throw away the towel or for matches to be treated as dead rubbers.
A promotion-relegation system would mean no room for tolerating mediocrity and it will add extra drama and competitiveness in games. It may also improve the television coverage of the sport in this country.