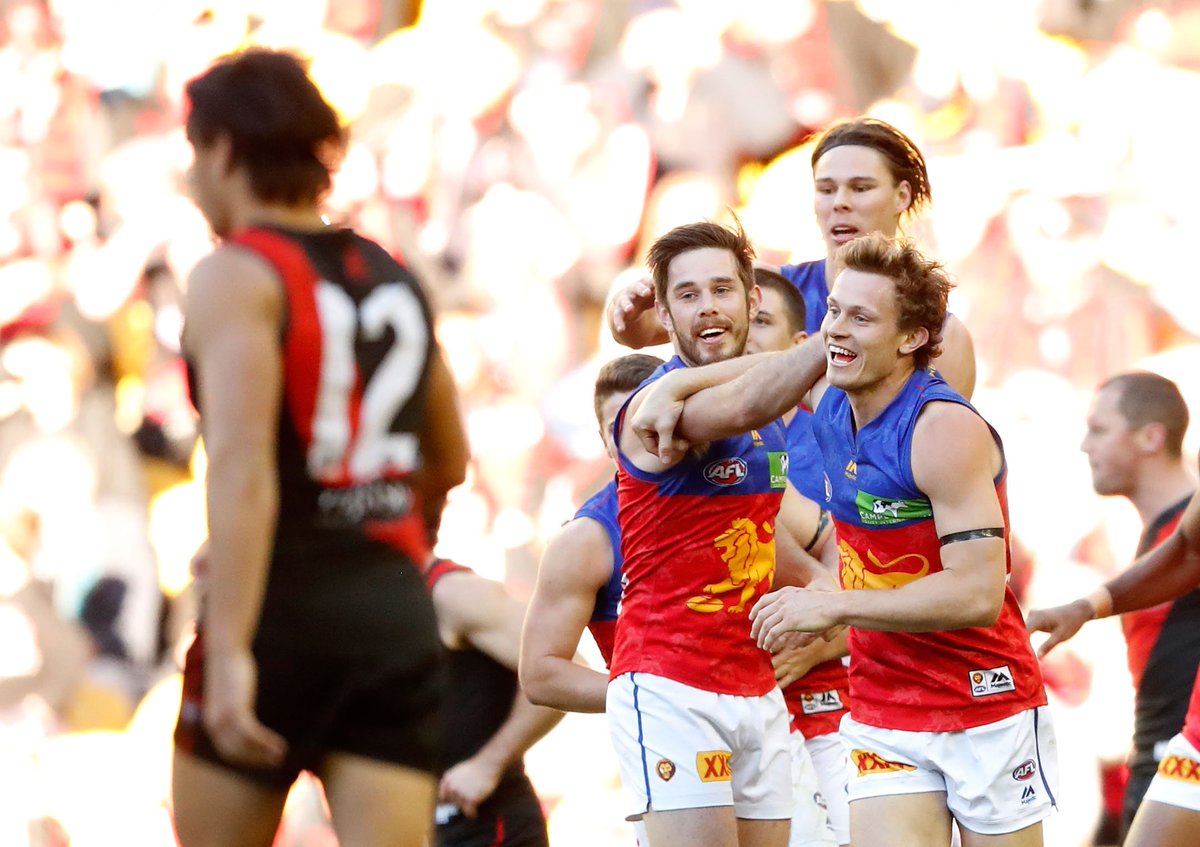 In the first half of the 2017 AFL season, it seemed that the Brisbane Lions were going to struggle and remain uncompetitive but the Queenslanders have looked like a rejuvenated side since their bye in Round 11.
Confidence was missing from the Brisbane squad prior to the bye and there were a few matches in which the Queensland club mixed patches of brilliance with spells of incompetence.
The Lions have collected two victories and two defeats in the last four weeks and they are playing as a team that finally understands the game plan implemented by Coach Chris Fagan.
Excessive handballs and indecisiveness caused Brisbane to frequently turn the ball over early on in the season but Brisbane has improved its short kicking and handballing in recent weeks and the players have demonstrated the ability to wiggle out of congested areas on the field.
Under Fagan there have been a number of youngsters emerging and so far they have shown that they deserve to keep their spot in the first 22. The likes of Hugh McCluggage, Jarrod Berry, and Alex Witherden were drafted last year and have quickly adapted to senior footy.
McCluggage is a smooth mover in tight areas and beats his opponents gracefully while Berry has kicked six goals and provided four assists in 12 games and he usually features in Brisbane's score involvements. Berry is usually named as a half-forward or ruck-rover but can provide run down the corridor.
Witherden has played just two games but has already displayed the skills that made him highly rated as a youngster. The 18-year-old gathered 20 disposals in his debut against Greater Western Sydney in Round 14 and backed it up with 29 touches against Essendon on Sunday. Brisbane was lacking in a half-back who could distribute the ball out of the defensive 50 and he already looks like the ideal player for that role.
Some of last year's debutants like Rhys Mathieson and Eric Hipwood have also improved under Fagan.
Mathieson had a career-high 32 possessions in the 60-point defeat to the Giants and he made a career-equalling best of seven tackles in the eight-point victory against the Bombers. His best moment though was his snap in the 57-point win against Fremantle, which also included a cheeky goal celebration.
Hipwood has not often been a player that can produce four quarters of consistent footy but he has produced moments for the highlights reels such as his Lance Franklin-like running goal against Port Adelaide and his goals from the 50 arch. His four-goal haul against Essendon though showed that he can be an important goalkicker for the Lions, even at 19 years old.
Defensively there has been improvement and that was clearly illustrated in the victory against Essendon, with the likes of Harris Andrews, Daniel McStay, and Josh Walker playing with great awareness and composure.


Bombers key forward Joe Daniher had kicked three goals in the first half on Andrews but the Lions defender managed to nullify him as the game progressed. McStay took a game-high 11 marks as well as nine one-percenters while Walker took some vital marks in defensive 50 in the final quarter and also went forward to kick a goal.
The most remarkable aspect of Fagan's reign as Lions coach so far is that several list-cloggers have improved greatly as the season has progressed.
Ryan Bastinac had been dropped for six games earlier this season but he kicked three goals in the 40-point loss to Port Adelaide and laid nine tackles against the Dons while Ryan Lester has proved in recent weeks that he is better suited to playing as a small defender than a small forward.

Rohan Bewick is another player who has had a spell in the reserves but he was decisive against the Bombers, kicking three goals including two in the final quarter to help inspire the comeback.
Nick Robertson was a player best-known for his work ethic as well as a lack of skill but his decision making and ball use has improved greatly. He collected 22 disposals and went at an efficiency of 82 per cent against Fremantle and he had 24 disposals with 87 per cent efficiency against the Dons.
Although Lewis Taylor is one of the more naturally-gifted players on the list, it seemed that the form of his breakthrough 2014 campaign was a distant memory. When he played against Fremantle, he kicked four goals and probably should have had one more if he didn't opt for a dribble kick in the second quarter, and against Essendon he had 24 disposals and had three assists.
The experienced players at Brisbane have made their contributions but the recent results have been a great testament to the youngsters and their ability to adapt to senior level footy.
If the Lions can remain competitive, they might leap out of the bottom of the ladder and prove to the rest of the AFL that they aren't whipping boys.