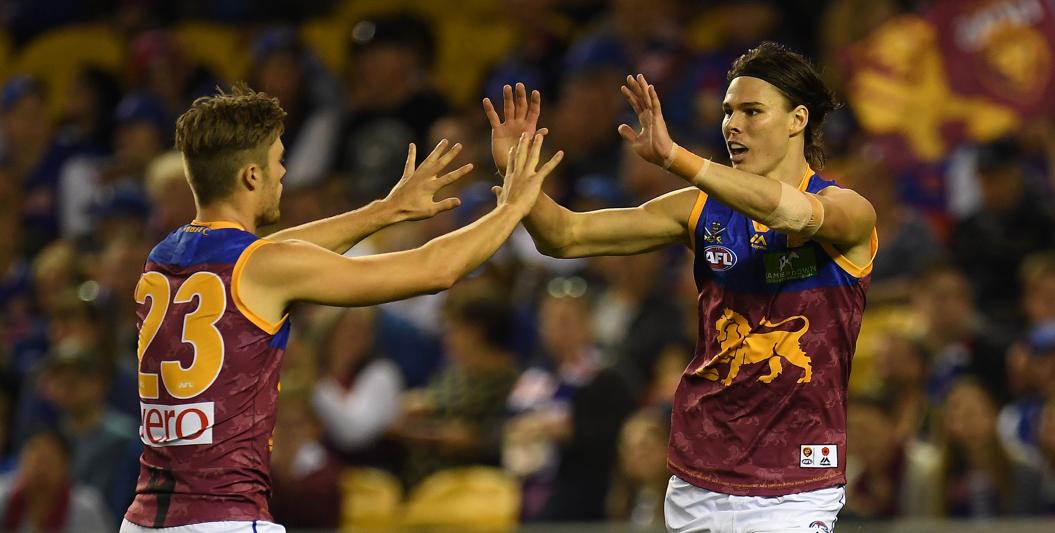 There is a dearth of key forwards in the AFL these days and it seems that the current forwards are given too much time to develop.
Although the media and the fans have this belief that it takes key position players five years to develop, I consider it to be no more than a fallacy and modern day myth.
This is now the time for key forwards of the current era to display maturity beyond their years but this consensus that it takes five years for them to develop as well as a lack of great key forwards means that fans should accept mediocre performances for a while.
The reasons for my ire are the wayward kicking of forwards in the AFL and the performances of Brisbane Lions key forwards Eric Hipwood and Josh Schache.
In Brisbane's 14-point defeat to the Western Bulldogs in Round 20, Hipwood and Schache recorded some unimpressive statistics. Hipwood had 17 disposals, took just three marks, and was kept scoreless while Schache had six disposals, took four marks, and kicked only one behind.
"Hippy" needs to improve on his leading and marking. There were at least 10 occasions where he could have marked the footy but he was easily beaten by his opponent or he was incapable of holding onto the ball.
"Schach Attack" in one play and kicked the ball in a congested area, it resulted in a turn-over, and the Bulldogs kicked a goal.
It is not all their fault though as they haven't had a good forward coach at Brisbane until recently. Ben Hudson was the forward coach before he was replaced by Jed Adcock and he was not a prolific goalkicker during his playing career.
How could Hudson have possibly taught Hipwood and Schache to improve their leading, marking, positional play, and kicking for goal?
They can form a potent partnership but it shouldn't take five years. For instance, Scott Lucas and Matthew Lloyd played their careers at about the same time at Essendon and when they won the premiership with the Dons in 2000, they had been playing together for less than five years.
Another young forward lacking in consistency is Jack Silvagni from Carlton. Due to his height and build, it seems unlikely that he will be a key forward and he might be better off playing as a third tall in the forward 50. At the moment, he can display moments of timidness and not show enough attack on the ball.
Good players take time but the greats shine from the start. Tom Hawkins has not developed into a great full-forward. He made his debut in 2007 but his breakthrough game was the 2011 Grand Final and his best game was against Carlton in Round 19 this season.
Although "Tomahawk" collected 27 disposals, took 12 marks, and kicked 6.1 against the Blues, the great key forwards of yesteryear would have replicated that form on a consistent basis.
If you look at the greatest key forwards of all-time, not many of them took time to develop but they made impact from the beginning.
John Coleman played full-forward from Essendon from 1949 until 1954, when a knee injury forced him into retirement. He kicked 537 goals in just 98 VFL games, including 12 on debut. Do people seriously think that it took five years for him to get going? Imagine if he played for another 5-10 years. Was his average going to be much greater that what it is?
Hawthorn legend Dermott Brereton kicked five goals on debut in 1982. By the time he had played five seasons, he had won two flags and kicked eight goals in a losing Grand Final in 1985. "The Kid" played for Hawthorn from 1982 to 1992 and it was not a case of five years of development and another five of success.
Playing the AFL is not a right but it is a privilege and I am sure that the emerging players of today know that. These footballers are living the dream but they must make the most of it.
They are playing at the elite level so there must not be any room or excuses for mediocrity. What happens if the talent pool increases and better players come along?