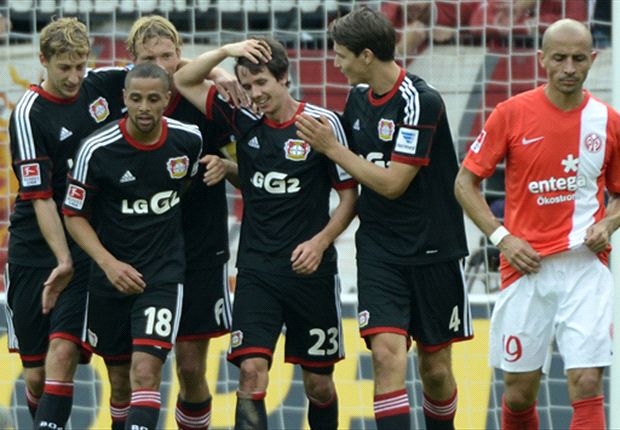 Robbie Kruse's performance in Bayer Leverkusen's 4-1 win away to Mainz in the latest round of Bundesliga matches was important from an Australian perspective. It was just one game but hopefully it is the start of many because Australian soccer needs someone starring in a big league.
Kruse joined Bayer Leverkusen this year from Fortuna Dusseldorf and the Socceroos forward has made the jump from a team that was relegated from the Bundesliga to a German team playing in this season's UCL. Bayer coach Sami Hyypia has usually used him off the bench but Kruse started against Mainz and scored two goals and created another.
Leverkusen is now one point behind Borussia Dortmund and Bayern Munich and if Hyppia's side can stay in the title race, it would be a great achievement. It would be more remarkable if Kruse could hold down his starting position too.
To have him make in an impact in such a team is important for the Socceroos because Australia needs top players playing in elite competitions, which the Bundesliga is. It may not have the marketability of the EPL but Dortmund and Bayern reached this year's UCL Final, which must count for something.
German sides are typically well-organised but these days they play with more flair than they used to. Going to the UK looked like an easy way out for Australian players because Australia was a British colony and playing in the SPL or EPL wouldn't require learning another language. By going to Germany, Kruse is adjusting to a different style of football and technique and tactics are important, not just physicality.
Another thing too is that in Australia, the media should make less of a deal about a player receiving matchtime in a big club or a big league. SBS tend to be guilty of this and because of this, Kruse starring for Leverkusen is important. Not only is he playing in a big league but based on the win against Mainz, he can be a key player.
Leverkusen need to keep pressure on Borussia Dortmund and Bayern Munich in the Bundesliga title race and it should try and qualify from its group in the UCL. If Kruse can keep starting and maintain his scoring record, it would be ideal for club and country. The Socceroos would have a greater threat than what they do now in attack and with Holger Osieck's reliance on veterans, he could do with an attacker who should be approaching his prime.
It would be wrong to get carried away about one performance against a small side in the Bundesliga but Robbie Kruse scoring for Bayer Leverkusen could result in a brighter future for the 25-year-old. If the Mainz match isn't a one-off, the Australian media can talk about a player making an impact in European competitions, not just about a bloke who was lucky to get matchtime.