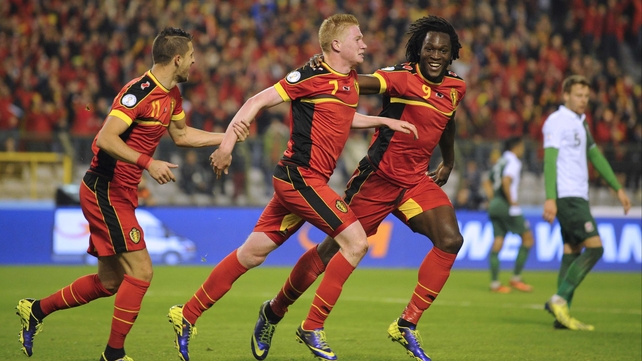 Belgium has qualified for next year's World Cup in Brazil and Marc Wilmots' team is considered to be a dark horse for the tournament. Although Belgium has finally qualified for a major tournament for the first time in 12 years, it's not surprising. With the stars they have at their disposal, the Belgian fans might be witnessing a 'golden generation' of their own.
Current Belgian coach Marc Wilmots was still playing for his country when the Rode Duivels controversially lost 2-0 to Brazil in the round of 16 at the 2002 World Cup. Wilmots himself had a legitimate goal disallowed during that match. Fast-forward 12 years and the Belgians look like a team on the rise.
The term 'golden generation' can get thrown around quite regularly. England claimed to have one during the 2000s and the same term was used for Portugal and the former Yugoslavia in the 1990s. Other teams have had that tag placed on them but it does seem that Wilmots basically has two players for each position in his squad.
In goal Belgium can rely on either Liverpool's Simon Mignolet or Atletico Madrid's Thibalt Courtois. Both goalkeepers are currently playing for teams that occupy top spot in the EPL and La Liga respectively.
Mignolet is 25 years old and Courtois is only 21, and if we are to believe that most keepers reach their peak later than on-field players, both Mignolet and Courtois have bright futures ahead of them.
Defensively the Belgians have some quality players but they are perhaps better known for their ability to go forward than to actually defend. Tottenham Hotspur's Jan Vertonghen can play as a centre-back or a left-back and Atletico Madrid's Toby Alderweireld can play at right-back or centre-back.
Manchester City's Vincent Kompany is arguably the most reliable of Belgium's centre-backs. He can defend, he has leadership skills and he possesses good ball control.
Others such as Arsenal's Thomas Vermaelen and Bayern Munich's Daniel Van Buyten aren't regulars at club level now and their ability to defend is questionable, perhaps even lacklustre. Both defenders are best known for their aerial threat at set-pieces.
Aside from them, there is Hannover 96 full-back Sebastien Pocognoli and Zenit St Petersburg centre-back Nicolas Lombaerts who have been capped regularly by Wilmots. At this stage, it looks like Vermaelen will be confined to the bench, especially if he can't break into an in-form Gunners side.
In midfield the Belgians don't have a genuine playmaker or someone who can is known to play in the hole. Eden Hazard can play behind the strikers but he is best known as a winger. Recently Wilmots has used Marouane Fellaini as an attacking midfielder in a 4-2-3-1 formation.
Belgium does have defensive midfielders or central midfielders who are technically skilled such as Zenit's Axel Witsel, Spurs' Moussa Dembele and Fellaini. The Manchester United midfielder is probably the pick of the lot and there is more to him than his massive afro haircut. He's a great ball-winner but he is also great at making runs late into the box and scoring goals.
If it's not them that Wilmots can rely on, he can also rely on FC Porto's Steven Defour. That's pretty impressive if Wilmots doesn't select Radja Nainggolan, who plays for Cagliari in the Serie A. Perhaps Nainggolan would be better off at a team like Inter Milan or Roma.
Regardless if Wilmots uses the 4-2-3-1 or 4-3-3 formation, he has some excellent wingers at his disposal. Chelsea's Kevin de Bruyne and Napoli's Dries Mertens can play on the right-wing as well as Everton's Kevin Mirallas. Spurs' Nacer Chadli has been playing recently on the left-wing but the first choice in that role is clearly Eden Hazard.
Hazard's brother Thorgan has also won a cap but Eden could arguably be the best Belgian player since Enzo Scifo. The Chelsea winger has won trophies with Lille and with the EPL club and he is only 22 years old.
In the centre-forward position, Belgium has two superb strikers in Aston Villa's Christian Benteke and Everton's Romelu Lukaku. Both players are already goal machines in their early 20s.
Perhaps that is the one thing counting against the current Belgian side. There are quite a few players in their early 20s and maybe Brazil 2014 might be too soon for success. Once those guys reach their mid-20s, they could be very intimidating.
A lesser concern is that Belgium rarely scores more than two goals a match but if Wilmots' team could score more than three goals in matches, it could be a more daunting team to face.
There are many players for Belgium who are playing in big leagues and for big clubs. Wilmots calls-up very few veterans and there is an emphasis on youth. If next year's World Cup is a warm-up for this Belgian squad, Wilmots' team might be a bigger threat for the established powers in the future.