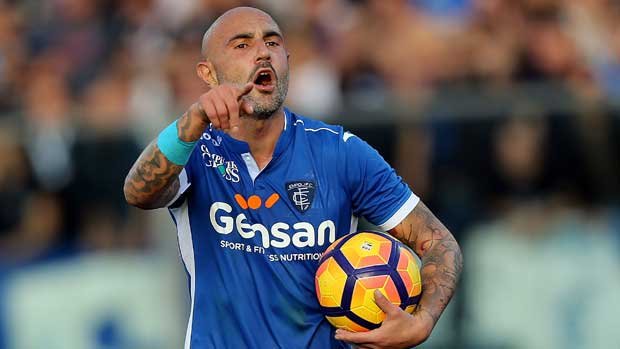 Veteran striker Massimo Maccarone has joined the
Brisbane Roar
in the
A-League
and hopefully his acquisition eventually convinces other Australian clubs to sign Italian players.
The 37-year-old signed a one-year contract to play for the Roar, and although "Big Mac" is not the first Italian player to have joined an Australian soccer team, he could start a trend if he can be a prolific scorer and also lead the Queenslander side to success.
A-League clubs have been acquiring players all over the world to improve the technical quality of the competition and it seems that anyone from a decent football nation can join a club in Australia and become a star performer.
Recruiting from South America has been common. The likes of
Fernando Brandan
and
Marcelo Carrusca
hail from Argentina while the likes of
Dodo
and
Gui Finkler
originate from Brazil and
Bruno Fornaroli
hails from Uruguay.
Due to the emergence of tiki-taka in the last decade, the interest in purchasing players from Spain has increased.
Western Sydney Wanderers
currently have
Aritz Borda
and
Oriol Riera
on their books,
Isaias
has remained at Adelaide United while some of his compatriots have departed, and
Diego Castro
has been a star for two seasons at Perth Glory.
Chasing players from Italy has not been a common exercise for Australian clubs historically. Roberto Vieri, the father of Christian, played for
Marconi
in the NSL in the late 1970s and early 1980s while
Benito Carbone
had a guest contract with
Sydney FC
in the 2000s.
After Vieri and Carbone, there was the euphoric arrival of
Alessandro Del Piero
in 2012, and although his presence did not provide the Sydneysiders with trophies in his two seasons with the club, he still provide moments of brilliance for the highlights reel.
One Italian player who has established himself in Australia is
Iacopo La Rocca
. After struggling in Italy's lower divisions, he played in Switzerland for five seasons, and has been in playing in the A-League for another five seasons. He was also a protagonist for Western Sydney when it won the Asian Champions League in 2014.
Another Italian playing in the A-League is
Marco Rossi
, who plays for New Zealander club
Wellington Phoenix
. The 29-year-old joined the Nix last season and played 24 league matches in 2016/17.
With the likes of La Rocca and Rossi gaining regular playing time at their respective clubs, Maccarone has the opportunity to do the same even in the twilight of his career and being an attack-minded player, he should stand out more than those two.
Now that Socceroos striker
Jamie Maclaren
has moved to Germany, Brisbane coach John Aloisi will rely on Maccarone for goals and hope that the Roar can improve on last season's semi-final appearance.
There are
64 players that have been released from Serie A clubs
and many more from Italy's lower divisions. They may not have the same level of experience as Maccarone but they could make a contribution to the A-League. Italian players are known for the technique and football smarts so they can make a significant impact for anyone interested in securing their services.
If "Big Mac" can star for Brisbane in 2017/18, surely more Australian clubs should turn towards the Italian peninsula for foreign players.