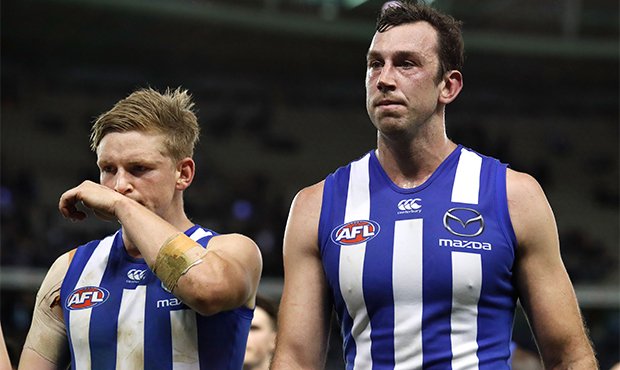 North Melbourne will not like hearing this but it could win the wooden spoon for the first time since 1972.
The Kangaroos have only won four AFL games in 2017, and have struggled to win many close encounters including the four-point defeat to Fremantle on Sunday afternoon, which became more ignominious when Todd Goldstein wasted a great opportunity to kick a goal to win the match in the final minute.
Experienced players like Andrew Swallow, Jack Ziebell, Goldstein, and Lindsay Thomas are not in peak form and it looks like a tough task for them to turn their form around.
Swallow is 30 years old, no longer the captain of North Melbourne, and he has played nine matches out of a possible 15 this season. He has averaged 18 disposals a game in 2017, which is lower than last year's average of 20.3 and his career high of 25.8 in 2012.
Ziebell is in the first season of his captain and while some stats look ideal, they don't tell the full story. His average tackles per game this year is six compared to 4.9 last season and he averages 22.9 disposals compared to last year.
On the downside, his average handballs per match have gone up from 7.1 to 9.1, his average kicks have fallen from 15.3 to 13.9, tally of goals has sunk from 0.8 to 0.5, and on average he concedes 1.5 free kicks compared to 1.2 last year.
Those midfielders have not been at their best and ruckman Goldstein is not experiencing his greatest run of form either.
The 29-year-old was considered to be one of the best rucks in the AFL and was capable of carrying the ruck work himself but now he does not last the duration of matches. Braydon Preuss and Majak Daw have taken turns rucking so Goldstein does not have to do it all by himself.
Although he has improved in terms of disposals with an average of 14.3 per game compared to 13.8 in 2016, his average marks has gone down from 3.1 to 2.7, and he now averages 33.1 hit-outs compared to 36.6 last year. In 2015 he had averaged a career high of 44.1 hit-outs a match.
Probably the greatest fall from grace has been from experienced goalsneak Thomas, who has only played seven games this season and scored just two goals. He averages 2.6 marks a match compared to last year when he averaged 3.0 and his goal average has gone from 1.7 in 2016 to a career low of 0.3.
If these four are not carrying North Melbourne, who can provide the up-and-coming youngsters with leadership and self-belief? Robbie Tarrant has been a solid performer in defence and Ben Cunnington has been a tough competitor in midfield but Coach Brad Scott lacks match-winners.
Currently the Kangaroos have only one more win than the bottom-placed Brisbane Lions, and barring the defeat to Geelong on Saturday, the Queenslander side have
turned things around since the bye
. Both teams face each other in Round 23 at the Gabba so that clash could be decisive for the battle for bottom place.
If North Melbourne's leaders do not improve their form and handle the close and gruelling contests properly, the Kangaroos could be the wooden spooners for the 2017 season.